Outside is the New Inside: 6 Design Trends to Transform Your Outdoor Space
Posted by Resident Realty on Thursday, June 20, 2019 at 7:57 PM
By Resident Realty / June 20, 2019
Comment
As the days get longer and the temperatures warm, there is no better place to gather for a backyard barbecue or relax with a glass of wine and thrilling novel than your backyard. For an out-of-this-world outdoor space that your friends and family will envy, consider redesigning your backyard with this year's hottest design trends: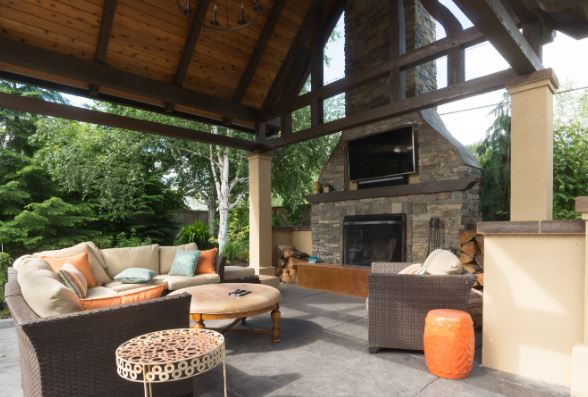 Outdoor 'rooms'
Creating an indoor-like living space outside is the most desirable trend of the year. You can accomplish this look by framing sitting areas with curtains, incorporating rugs and planting low-maintenance ornamental grasses to create a cohesive space. To transform your covered patio, add wood planks to the ceiling and sconces. These new additions will create a warm and relaxing atmosphere you won't want to leave.
Innovative new fabrics
While Sunbrella has been the option of choice for years, it turns out it isn't the only option. Other great fabrics include polyester terrycloth (a towel appearance), indoor-outdoor wovens (from designer Peter Dunham) and performance velvet (from Holly Hunt). If you're not interested in spending money on new furniture or cushions, simply spray Neverwet, a moisture-repelling barrier, on your surfaces.
True-blue (and green) hues
Dark azure blues and deep greens are the colors of the year - especially outside. Look for them to appear in cushions, umbrellas, tiles, pillows, rugs and more! Not only are these colors luxurious, but they also calming.
Concrete
Concrete, cheap, durable and easy to maintain, is extremely popular right now - inside and out. Consider incorporating a concrete patio, table, bench, planter or fire pit into your outdoor space. Or for a really bold look, build a concrete fireplace.
Vertical gardens
Attach clay pots with steel cable ties to a wood pallet and hang it on the wall. Vertical gardens create a living piece of art and a great place to display herbs and flowers.
Bold lighting
Lighting creates atmosphere - it's as simple as that. To brighten up your outdoor space, add recess lighting to your covered patio, lanterns along the pathway and spotlights to your garden beds. A well-lit garden is safe and attractive.
These design trends will transform your outdoor living space into an entertainer's dream just in time for summer!
Have questions? We are always available to help. Contact our team anytime.