Austin's Craft Brewery Scene | Austin Texas
Posted by Todd Sherman on Saturday, June 1, 2019 at 6:56 PM
By Todd Sherman / June 1, 2019
Comment
Craft breweries are emerging all around the United States. According to the Brewers Association, craft beer sales grew 12.8 percent in 2015, and make up 12.2 percent of all beer sales in the United States. However, while the craft beer scene is growing nationwide, it hasn't grown at the same rate in every U.S. city. But, lucky for us, Austin has a fantastic craft brewery scene!
So, what's the scoop on Austin's craft brewery scene? The craft beer trend has completely taken over the Austin area, with new locations opening every year all around the city. Exploring is the fun part – so, we've put together a list of Austin craft breweries, organized by location. These aren't all the craft breweries in the Austin area, but it's a great starting point for those looking for a weekend craft beer crawl: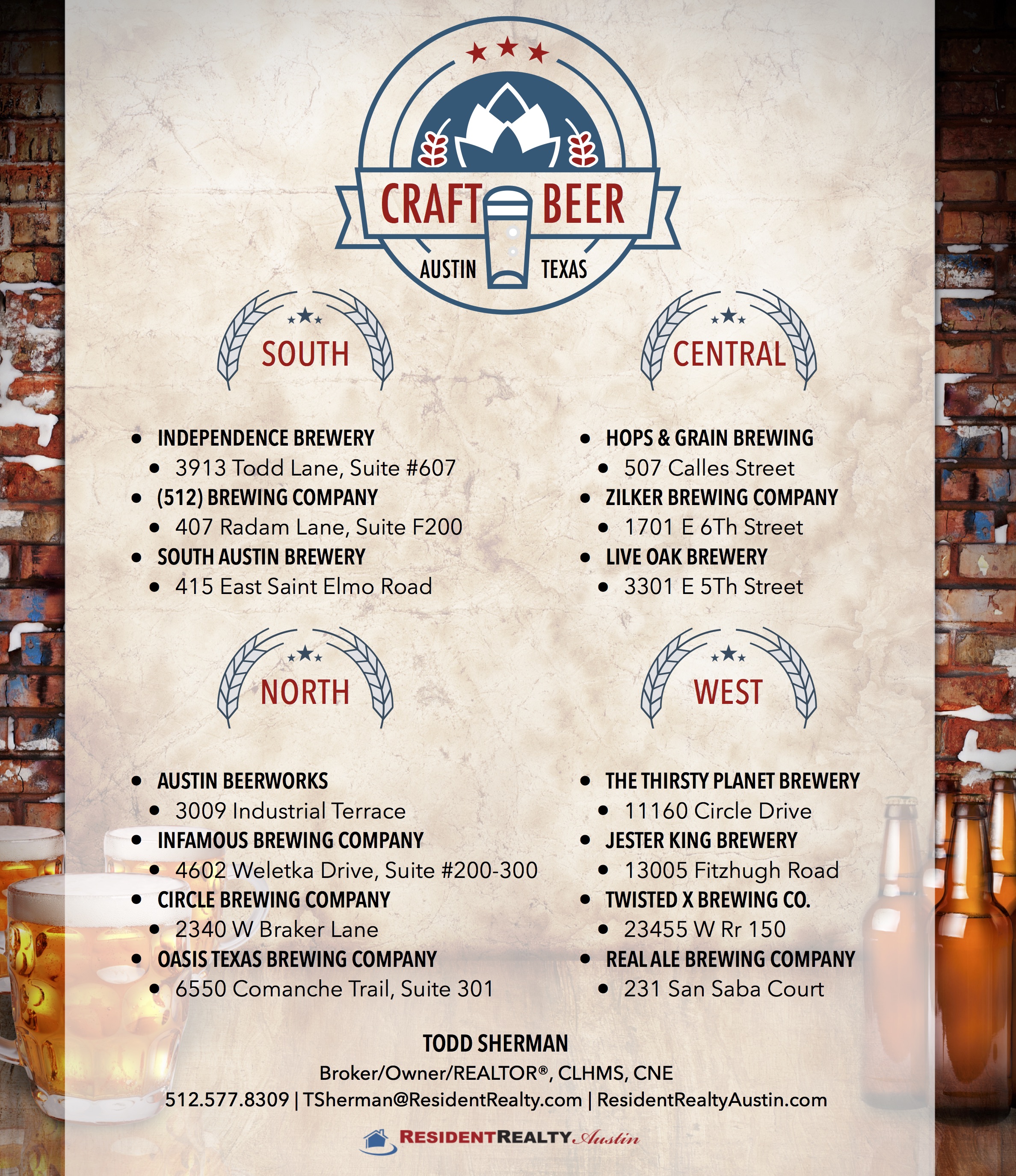 Austin's Craft Beer Scene
Central
Hops & Grain Brewing - 507 Calles Street
Zilker Brewing Company - 1701 E 6th Street
Live Oak Brewery - 3301 E 5th Street
South
Independence Brewery - 3913 Todd LANE, SUITE #607
(512) Brewing Company - 407 Radam LANE, Suite F200
South Austin Brewery - 415 East Saint Elmo Road
North
Austin Beerworks - 3009 Industrial Terrace
Infamous Brewing Company - 4602 Weletka Drive, SUITE #200-300
Circle Brewing Company - 2340 W Braker Lane
Oasis Texas Brewing Company - 6550 Comanche Trail, Suite 301
West
The Thirsty Planet Brewery - 11160 Circle Drive
Jester King Brewery - 13005 Fitzhugh Road
Twisted X Brewing Co. - 23455 W RR 150
Real Ale Brewing Company - 231 San Saba Court
Do you have a favorite Austin craft brewery that didn't make the list? Let us know. We would love to add it to our list.
As longtime Austin residents, we have the knowledge and experience to answer any questions you may have about the Austin area. Give us a call anytime.
Resources:
https://www.brewersassociation.org/press-releases/small-independent-brewers-continue-grow-double-digits/