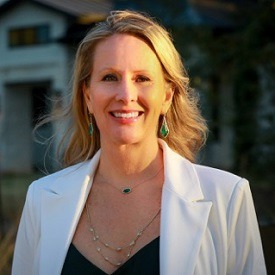 I am a native Texan, born in El Paso, Texas. I followed my love to California where we created an exciting life and family and where I taught High School English for 10 years. After the craziness of Los Angeles wore us down, we moved to Austin in 2010. We love being back "home" in Texas and all that it has to offer. I really enjoy working with people who are moving here from out of state as we did and I can provide them the undivided exceptional client service they need and deserve.
After teaching and working as a high school administrator and tennis coach here in Austin for seven years, I decided to flip my strong people and communication skills into a new industry. I found the shift to real estate to be exciting and a good match with the relational experience and education I bring with me to each and every situation that is a part of real estate.
Working with Camille = Client. Commitment. Care. Compassion. Class. Confidence. Calm. Communication. Community.
Texas Real Estate Commission Information About Broker Service
Testimonials
Working with Camille is pure joy. She helped us into our first rental together, and it was perfect, so we went back to her when we were ready to buy a house. The process was daunting as first-time homebuyers, but before we knew it, we had the perfect little starter home. She was willing to work with us, even though our dream home was for sale by owner, plus she gave a percent of her commission to a charity of our choice! The entire process was almost too simple!She is not only an excellent and attentive agent, she is a true friend. We can't wait to work with her again whenever life calls for a change. We couldn't recommend her highly enough.
B Mammel and A Davis
Let me tell you about our experience with Camille Palafox. My girlfriend and I had been considering moving to the Austin suburbs to escape the long rainy seasons of Oregon and the astronomical cost of living; among other reasons. After doing some reading online, we found Camille and decided to reach out to her and explain that we were considering the move – but not for another year. She was absolutely fabulous from the beginning and sent us a little "Austin welcome package." During our next visit to Texas we met with Camille in person and it was evident that we made the right connection. She encompassed that southern hospitality and drive that we were looking for. We were more excited for our move than ever. During the next year she very well kept us in touch with the market and would send us listings and occasional packages. She even offered to help us make connections in other ways as well – such as jobs. It can be very stressful moving out of state.
We were lucky enough that she has had experience in this area before because she made it rather seamless. We were able to come down for a weekend a couple of weeks before we planned to put our house on the market, just to start looking at neighborhoods we would potentially be interested. She and her husband opened up an entire day for us to look at properties – amidst the COVID pandemic - in each neighborhood, to help us get an idea of what we could be purchasing. Even though the likelihood of us purchasing one of those houses was slim. In the end, we bought a house "sight unseen" but, she did a walk through with each one we wanted to offer on – having a good idea what we were looking for. We love our house and our neighborhood. We couldn't have done this without her. Although the house purchase is complete, she still continues to help us out all of the time with recommendations. She just keeps going above and beyond! We cannot praise her enough.
Mattea and Roy
When we first began to research the value of our home and possibly putting it on the market, myhusband and I felt we should interview at least three realtors to learn as much as possible. However,upon our first meeting with Camille & Todd, we were confident we had found the best realtors for us.Their professionalism, knowledge of the market, and enthusiasm for our home told us we were a perfectfit. They truly listened to our story and our needs and developed a marketing plan. Camille's kindnessand positivity project through every conversation. She directed us gently through every step of theway, never pushing, but giving pertinent advice. Both Todd & Camille communicated with us in a waythat never left us wondering how to proceed. Together we worked through COVID illnesses, the icestorm of 2021, and torrential spring rains. They never acted like this was anything but routine, thuskeeping our anxiety levels to a minimum. When it was time to juggle & dissect multiple offers, Toddled us through the process with confidence and ease. I have just two words --
hire them
!
Cheri and Ed Hill